AOPE Research Overview
SHARE THIS:
The Department of Applied Ocean Physics & Engineering pursues excellence in science and technology across multiple disciplines. Following are a few examples from AOPE staff: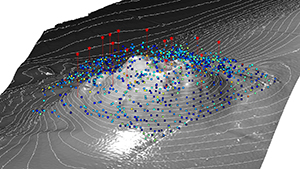 Richard Camilli's research focuses on developing and applying robotic technologies for in-situ sensing. He often couples chemical sensing with autonomy to enable real-time situational awareness in regions that are too dangerous or costly using conventional oceanographic methods. His work has demonstrated utility in a variety of contexts, including assessment of environmental pollution from the Deepwater Horizon, as well as discovering extreme life forms in the deep ocean.