About Semester at WHOI
SHARE THIS: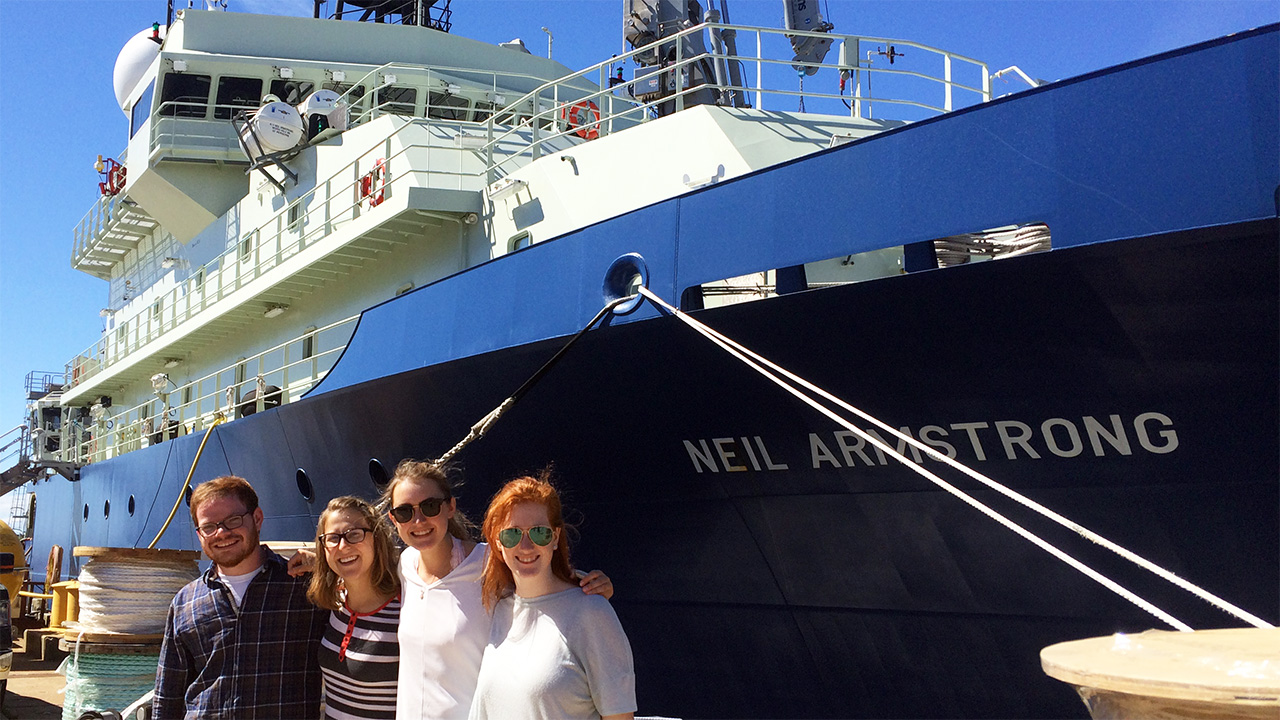 SAW students from the class of 2016 took the opportunity of a port call by the WHOI-operated research vessel Neil Armstrong to tour the new 238-foot ship. (Photo by Kama Thieler, Woods Hole Oceanographic Institution)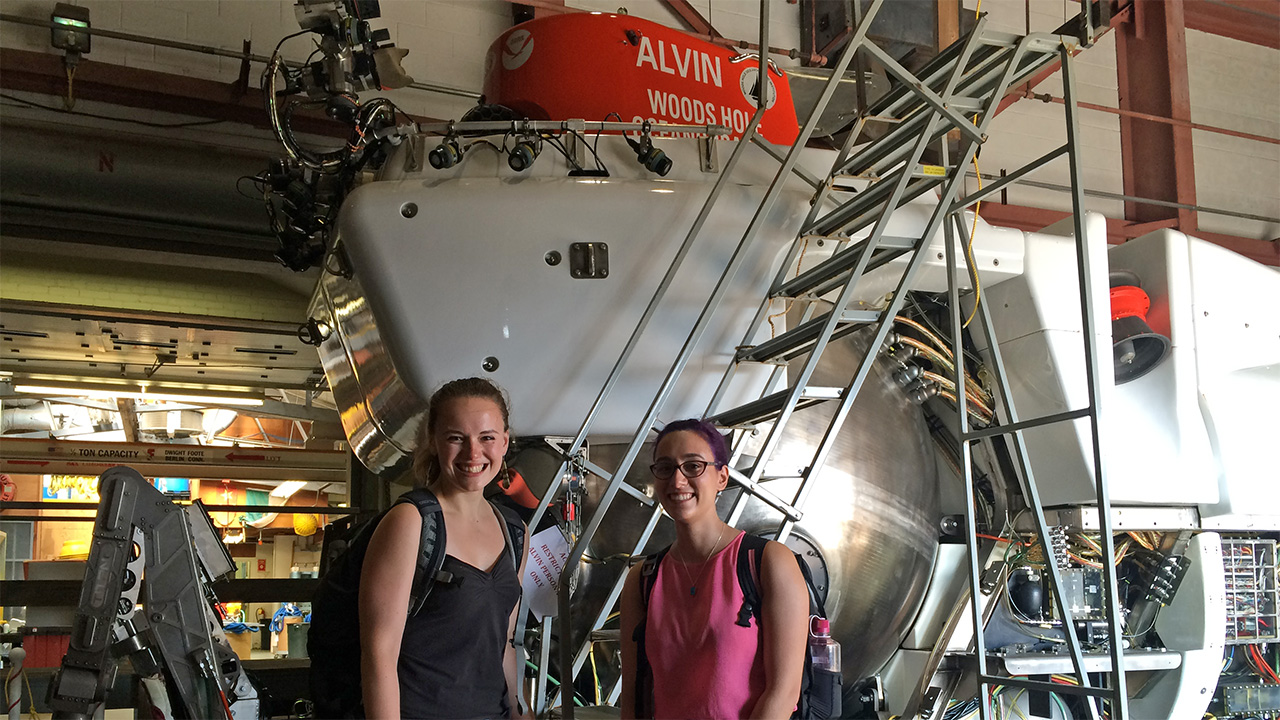 Megan Behnke (left) and Lina Davidson, members of the 2015 class of Semester at WHOI (SAW) got a behind-the-scenes look at the human-occupied submersible Alvin during one of the sub's rare stopovers in Woods Hole. (Photo by KamaThieler, Woods Hole Oceanographic Institution)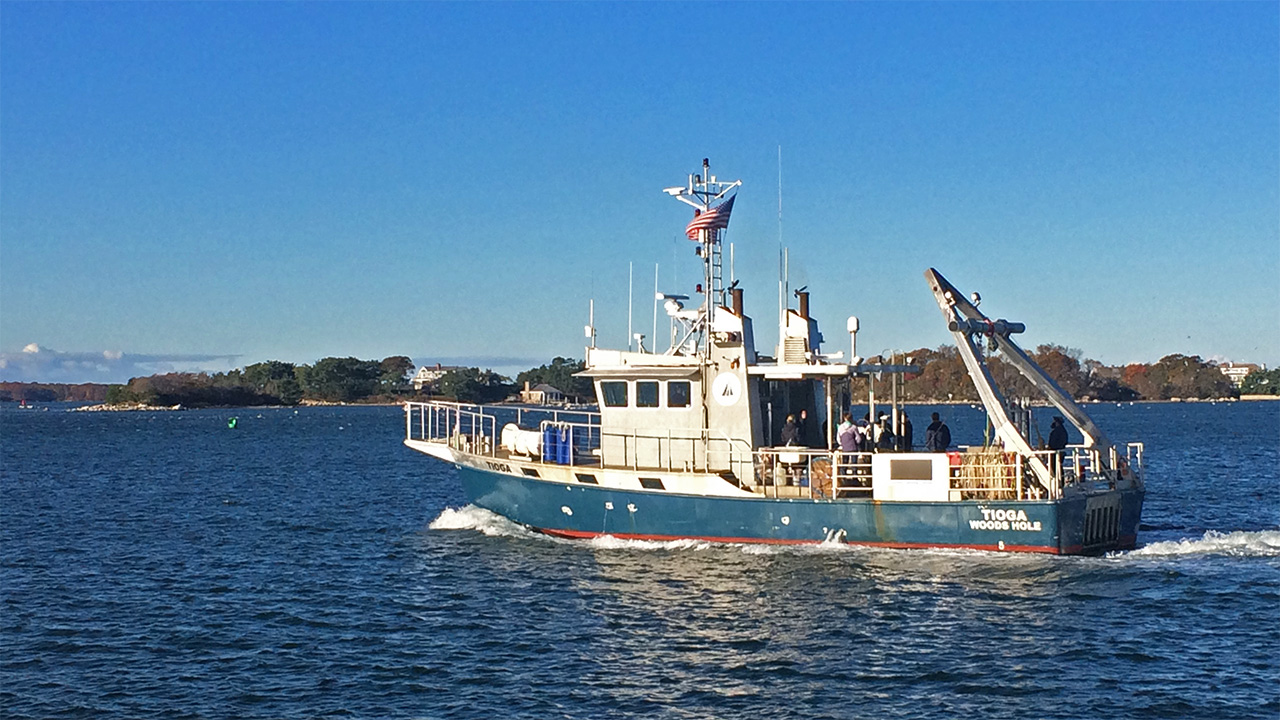 The 2016 class of SAW headed out on WHOI's coastal research vessel Tioga for a daylong trip to learn about oceanographic research tools and techniques. (Photo by Kama Thieler, Woods Hole Oceanographic Institution)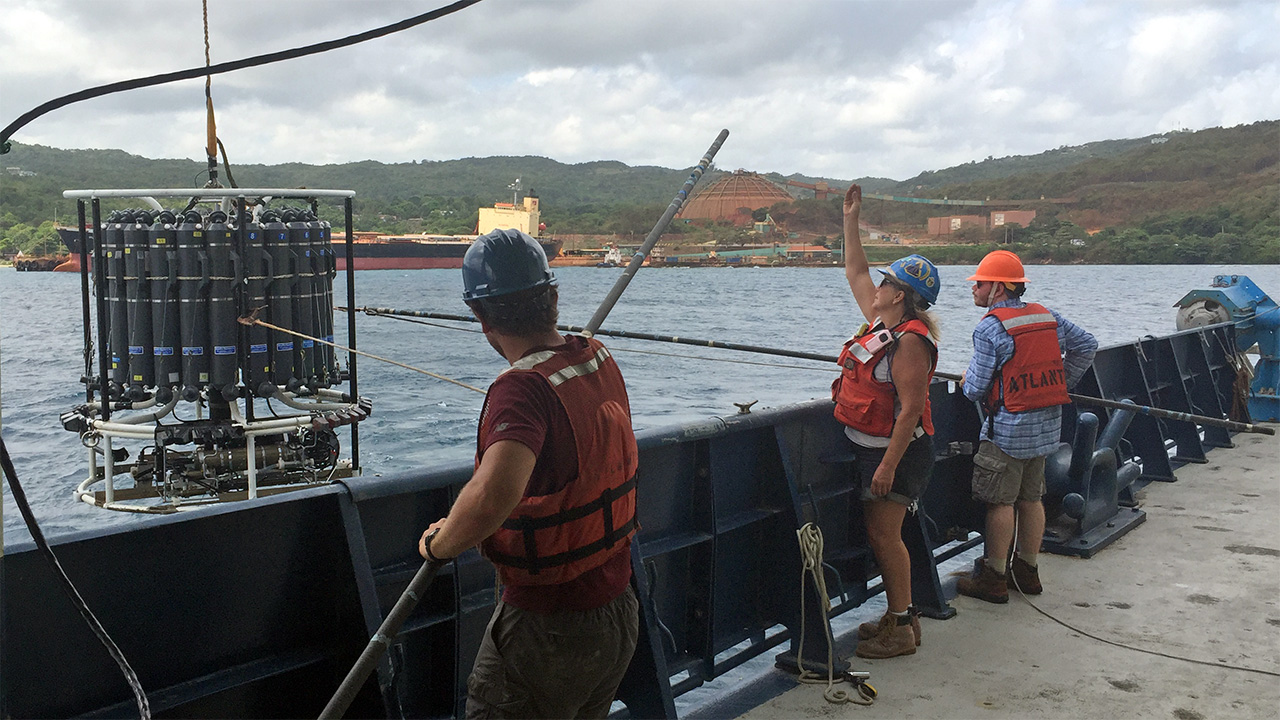 Patrick Orenstein (far right), SAW 2016, helped recover a CTD rosette on board the research vessel Atlantis in Discovery Bay, Jamaica, during a trip to examine the history of large storms in the western North Atlantic. (Photo by Lizzie Wallace, Woods Hole Oceanographic Institution)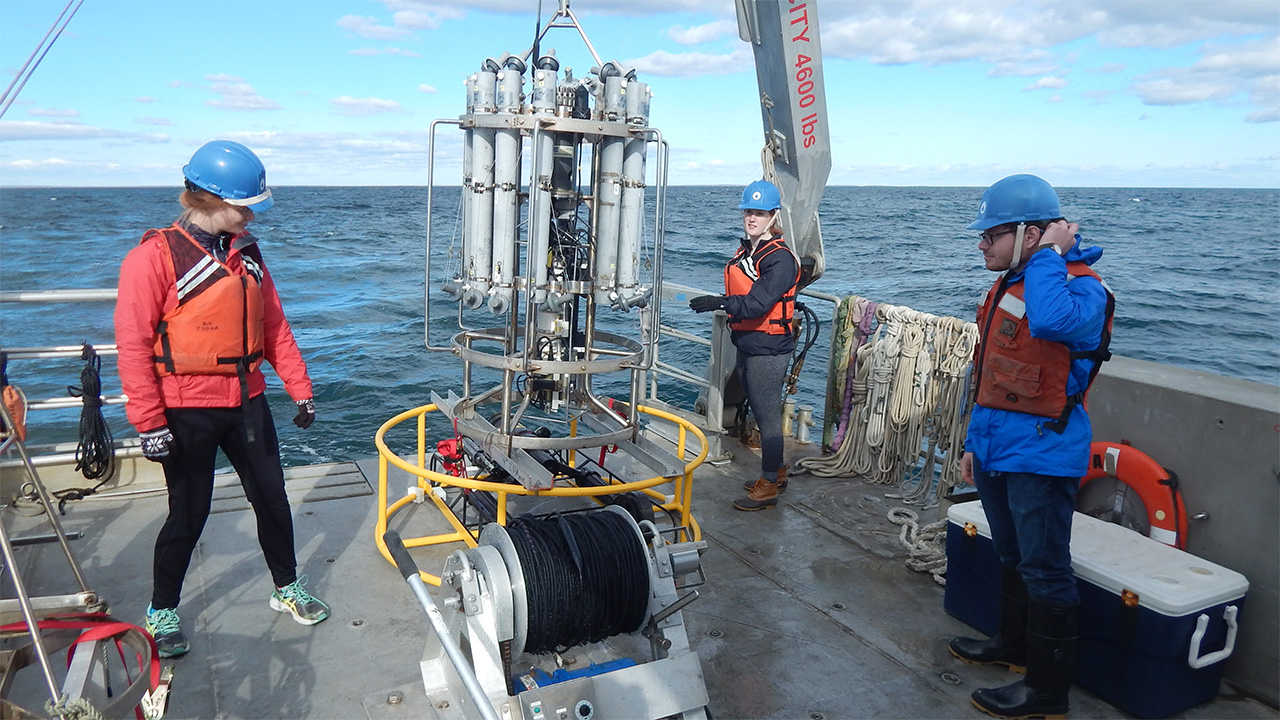 On the stern of R/V Tioga, Lauren Dana , Mary Caroline Regan, and Patrick Orenstein (left to right) recovered a CTD rosette, an instrument that measures conductivity, temperature, and depth and collects water samples to help study physical, chemical, and biological processes in the ocean. (Photo by Hannah Mark, Woods Hole Oceanographic Institution)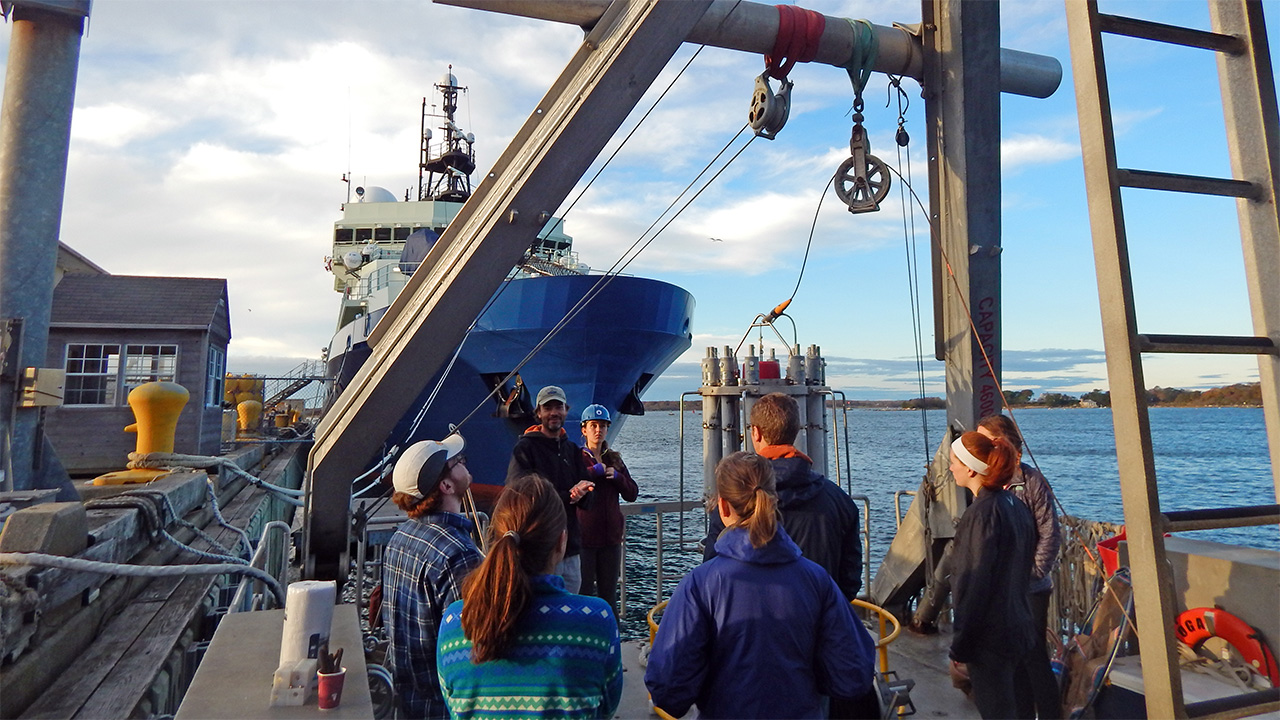 WHOI marine biologist Gareth Lawson (baseball hat, facing camera) briefed SAW students and WHOI-MIT Joint Program graduate students in the Elements of Modern Oceanography class on the deck of R/V Tioga with R/V Neil Armstrong in the background. (Photo by Hannah Mark, Woods Hole Oceanographic Institution)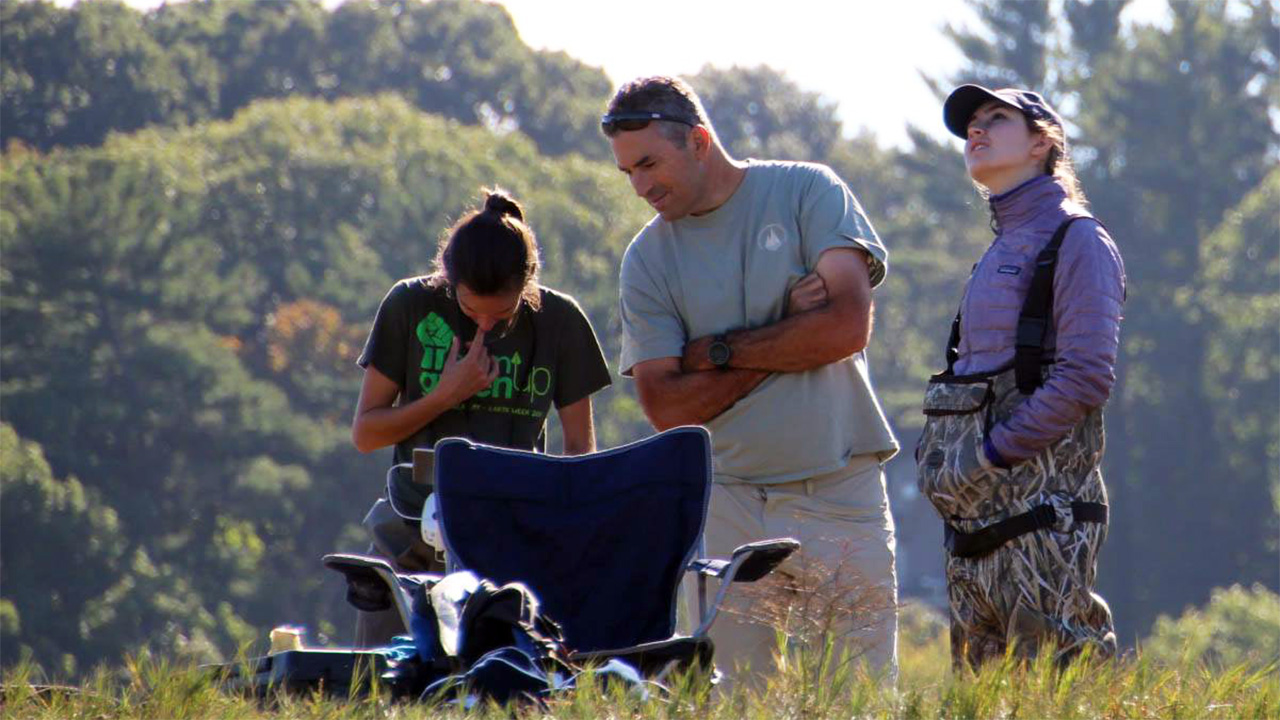 Laura Chrobak (right, SAW 2016) helped Joint Program graduate student Katie Samuelson and WHOI scientist Peter Traykovski guide an remote-controlled aerial drone during a class on Oceanographic Instrument Systems that combined air- and water-based data collection. (Photo by Rocky Geyer, Woods Hole Oceanographic Institution)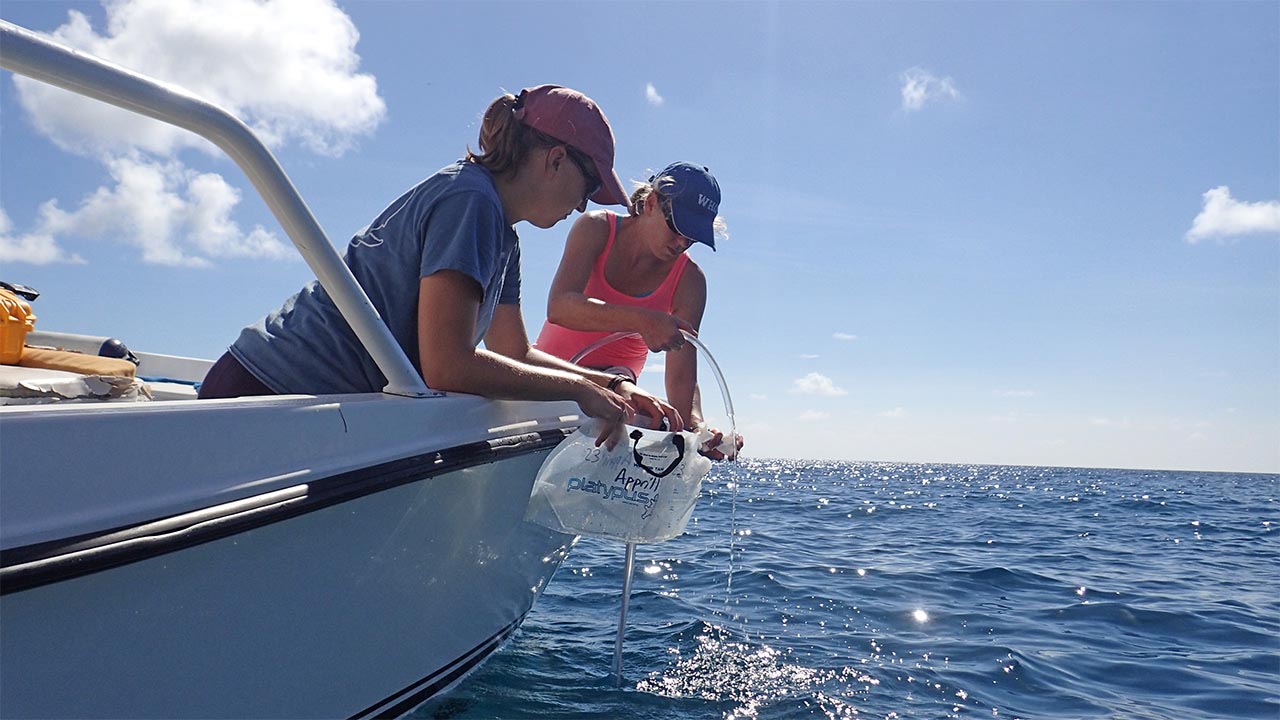 Cynthia Becker (left), SAW 2016, and WHOI microbial ecologist Amy Apprill collected water samples during a trip to study coral health in the U.S. Virgin Islands. (Photo by Paul Caiger, Woods Hole Oceanographic Institution)
Semester at WHOI (SAW) is an undergraduate residential "study-away" opportunity at the Woods Hole Oceanographic Institution in Woods Hole, MA, on Cape Cod. The program features a for-credit, semester-long research experience directly advised by a WHOI scientist or engineer as well as the opportunity to take graduate-level courses modified for undergraduate credit. The combination of research project and coursework constitute a full semester of credit that is transferable to the student's home institution. SAW is particularly well suited for students who are considering an advanced degree in ocean science or engineering and related fields in the earth sciences.
Application and admission
Second or third-year undergraduate students majoring in science, engineering, or mathematics are eligible to apply for SAW beginning in the fall for admission to the program in the following fall semester. Applications are considered on a rolling basis and a decision is generally given within three weeks after submission.
Research
The cornerstone of the SAW program is a semester-long, for-credit, independent research project conducted under the guidance of a WHOI scientist or engineer. All WHOI researchers who are prospective SAW advisors have prior experience hosting REU students in their laboratories and understand the needs of a student working to define and complete a project in a specific period of time.

» SAW research projects
» WHOI Areas of Research
» Departments, Centers, and Labs
Coursework
SAW students have the opportunity to take one or two ocean science courses designed specifically for the program and can also choose from a small number of graduate courses that are modified so they can be offered for undergraduate credit.

» Course Offerings
» MIT-WHOI Joint Program
Tuition
Tuition assistance is available. Past awards have ranged from $5000 to $10,000. Please contact education@whoi.edu with questions.

SAW tuition is $20,000 and must be paid prior to enrollment. Upon acceptance, a $500 deposit is required to hold a position in the program and must be paid within three weeks of acceptance.

WHOI is not yet eligible to accept Federal financial aid for the SAW program. As a result, the Institution cannot provide a 1098-T form required by the Internal Revenue Service should you or your parent(s)/guardian wish to pay some or all of your tuition from a Federal 529 savings plan. This restriction does not apply if your home university collects tuition from you and then pays your WHOI tuition, which is a common practice for off-campus study.
Housing
WHOI housing units are located on both the Quissett and Village campuses. These units are furnished and equipped with kitchen appliances and utensils. Currently, housing costs are $830 per person per month for a shared bedroom with two beds per room, which includes all utilities, cable TV, and internet access.

Students are expected to provide their own meals. Breakfast and lunch are available for purchase in the Quissett Campus cafeteria on weekdays (excluding Institution holidays), and the village of Woods Hole also has many coffee shops and restaurants, as well as a large cafeteria at the nearby Marine Biological Laboratory.
Transportation
WHOI is situated on two campuses known as the Quissett and Village campuses two miles apart in Woods Hole, Mass. Access to a car and/or a bicycle is helpful. There is a bike path connecting the campuses and WHOI provides regular shuttle service during work hours on weekdays. Public bus service to local shopping centers in Falmouth and the rest of Cape Cod is available, as is regular bus service to and from Boston and Boston's Logan International Airport from both Woods Hole and Falmouth. Taxi services, both local and regional, are available upon request. WHOI provides a weekly grocery shuttle to local supermarkets for students.

» Shining Sea Bikeway
» Cape Cod Regional Transit Authority
» Peter Pan Bus Lines
Program Management and Oversight
WHOI has hosted undergraduates for summer research experiences every year since 1958 and has managed a Research Experience for Undergraduates (REU) program, currently exceeding 30 students each summer, since 1989 with support from the National Science Foundation (NSF) and other sources.

WHOI's Academic Programs Office includes a Dean, an Associate Dean, a registrar, and a housing coordinator, as well as a coordinator dedicated to the SAW program. The program coordinator has training and experience in ocean science, and with operation of education and research programs at the undergraduate level, including WHOI's summer REU program.

» Academic Programs Office
» Accreditation
Important Dates
2018
September 4: Registration and orientation
September 5: First day of classes
October 8-9: Columbus Day, no classes
November 12: Veterans Day holiday
November 22-23: Thanksgiving break
December 12: Last day of classes

Questions can be directed to: education@whoi.edu
SAW Tuition Refund Policy
Prorated Tuition Schedule
If you plan to withdraw from the Institution, make sure to notify the Registrar. Refunds of paid tuition are pro-rated based on the effective date of the withdrawal. Tuition is charged until you officially withdraw with the Registrar. The refund schedule below is for undergraduate students:
| | |
| --- | --- |
| Registration day and first day of classes: | 100% refund |
| Day 2 of classes through second week: | 80% |
| During third week: | 60% |
| During fourth week: | 40% |
| During fifth week: | 20% |
| After fifth week: | No refund |