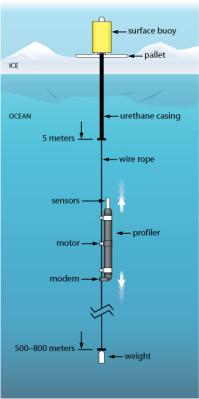 A schematic of an Ice-Tethered Profiler. Details about this system can be found at http://www.whoi.edu/itp (WHOI ITP Project)



Using Ice-Tethered Profilers to Examine Production in Sub-Ice Ecosystems:



Collaborators:
Dr. Mary-Louise Timmermans, WHOI Physical Oceanography



Ice-Tethered Profilers (ITPs) have proven to be a robust approach for measuring ocean physical properties in permanently ice-covered regions. Two ITPs deployed in the Canada Basin demonstrate the ability to reliably measure dissolved oxygen (DO) in addition to standard physical properties over long time scales. The two DO time series collected with these ITPs exhibit seasonal trends that reflect spring-summer bursts in ice algal and phytoplankton production. These time series also bracket the dramatic 2007 reduction in summer sea ice. The goal of this research is to develop a first-order model of the physical and biological processes that control DO concentrations in the surface ocean under permanent Arctic ice. This model will be used to determine which aspects of DO variability in ITP data reflect changes in ice properties such as thinning, which reflect ocean physics and chemistry, and which represent the residual variability that should be ascribed to photosynthesis by ice algae and phytoplankton. Developing this conceptual model and evaluating it against ITP DO measurements represents a strong synthesis of physical and biological expertise. To our knowledge, this interdisciplinary effort will be the first use of data from autonomous ice-based observatories to assess temporal changes in an Arctic ecological process.