| | |
| --- | --- |
| Marine Biotechnology at Woods Hole Oceanographic Institution | |
Basic research at WHOI encompasses all aspects of ocean science and engineering. Our work seeks to gain a better understanding of the interactions among the ocean's physical, chemical, geological, and biological processes and how these processes interact with the land, atmosphere and human society.

This mission includes high-level research into fundamental physiological and biochemical mechanisms of marine organisms. Our understanding of the underlying properties and mechanisms of ocean biology and our long track record of working in the ocean gives us insights into how useful products might be developed from marine sources or how marine products might improve the efficiency of new and existing processes in environmentally sound and financially prudent ways.

Our scientists are currently developing materials, processes, and techniques that may have wide-ranging biotechnological applications; our engineers are constantly designing and deploying new technologies to characterize and monitor biological and biogeochemical processes in the ocean and laboratory. This marriage of basic knowledge and proven application has led to the spin-off of 16 private technology companies producing a range of engineering and biotech products, as well as more than 50 institutional partnerships worldwide. We are interested in developing new relationships with academic and commercial partners that may wish to learn more about our research, discoveries, methods, and technologies—and the opportunities that these present.

» Read WHOI's qualification statement (pdf)


Highlighted Research and Technology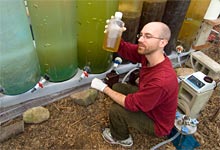 Marine-derived Biofuels and Co-products


Principal Investigator: Christopher Reddy
Marine biofuels produced from microscopic plants (algae or phytoplankton) are rapidly emerging as highly promising alternatives to conventional liquid fuels and to terrestrial sources of biofuels. We predict that these large-scale marine biofuel operations will present considerable logistical and scientific challenges, requiring continual research to reduce costs and optimize production. With its renowned scientific staff and research facilities, WHOI is obtaining fundamental ecological, physiological, genetic, and biochemical insights geared towards enhancing biofuel technologies and production. WHOI is well poised to examine biological or chemical mechanisms for biosynthesizing algal products or fuel precursors and co-products; select species based on specific metabolic and biosynthetic performance; analyze algal products; and assess environmental implications of culturing algae and producing algal biofuels.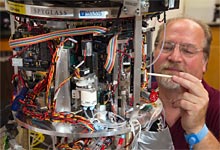 In-situ Marine Genetic Analysis and Biological Monitoring


Principal Investigator: Don Anderson
The overall focus of research in the Anderson Lab is on toxic or harmful algae—the species responsible for the phenomena commonly called "red tides." Their work spans the spectrum from mesoscale investigations of algal bloom dynamics to studies at the cellular and molecular levels. The system they work with most often is the toxic dinoflagellate Alexandrium, the genus responsible for poisonous red tides in many countries throughout the world. Alexandrium is perhaps the most important of all toxic dinoflagellates, and serves as an excellent model for many other red tide species. Recent activities in the Anderson lab involve deployment of autonomous sensors that employ DNA probe technology to detect and describe toxic algae in-situ.
» Additional Information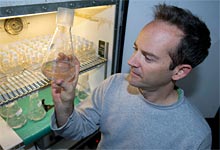 Natural Products from Marine Bacteria


Principal Investigator: Tracy Mincer
The Mincer Lab explores the chemical diversity of various marine bacteria within the culture collection at WHOI and also cultivates new microbes for study. The primary purpose of this is to understand the mechanisms of microbial communication and means of chemical defense—in other words, how microbes interact chemically in their environment—and the applications of these principles to biomedicine and biotechnology. Many of these bacteria and fungi have been derived from either unexplored environments or exist in pure culture only at WHOI.
» Additional Information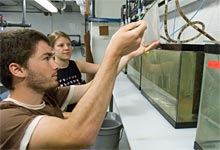 Biochemical Toxicology in the Marine Environment


Principal Investigator: John Stegeman
The biochemistry, evolution, and regulation of cytochrome P450 enzymes and their roles in biochemical toxicology are the focus of the Stegeman Lab at WHOI. Researchers are interested in the metabolism and biological effects of xenobiotics such as PCBs, hydrocarbons, natural products, and endogenous regulatory molecules (e.g., steroid hormones), in aquatic animals. In addition, researchers examine how the structure-function relationships involved in the effects of these chemicals are related to the susceptibility of developing animals. Using molecular techniques, including quantitative PCR and gene expression microarrays as well as biochemical analyses of expressed proteins, researchers investigate the regulation and function of P450s in vertebrates (fish to whales) and invertebrates.
» Additional Information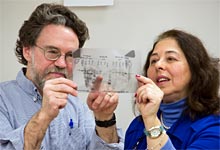 Understanding Chemical Interactions Between Animals and Environment


Principal Investigator: Mark Hahn
Researchers in the Hahn Lab study the biochemical and molecular mechanisms that underlie the interactions of animals with their chemical environment. Members examine these mechanisms from comparative and evolutionary perspectives in order to understand the fundamental features of the biochemical systems that control the response of animals to toxic chemicals. Through this basic research in cell and molecular biology, using environmental contaminants and marine natural products as molecular probes, they hope to improve understanding of the mechanisms by which aquatic animals respond to chemical contaminants and the evolutionary history of the proteins involved as well as human health consequences of exposure to environmental chemicals.
» Additional Information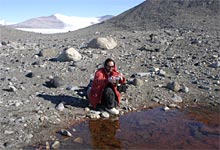 Proteomics in the Marine Environment


Principal Investigator: Mak Saito
Marine microbes exert an enormous influence on the cycling of chemical elements in the marine environment, including the relatively abundant carbon, nitrogen, and phosphorus, as well as rarer trace elements such as iron, cobalt, and zinc. Researchers in the Saito Lab use the latest proteomic biotechnology to understand the cycling of these nutrients and micronutrients in the oceans. In the process of applying these tools, they are also discovering novel metalloproteins and enzymes that have evolved in the unique chemical environment of the oceans.
» Additional Information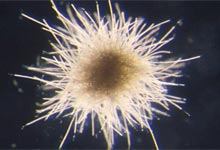 Microbial Interaction with Biogeochemical Cycles


Principal Investigator: Sonya Dyhrman
Members of the Dyhrman Group study the interactions between microbes (eukaryotic algae and cyanobacteria) and their geochemical environment at the interface between microbial physiology and the biogeochemical cycles of nitrogen and phosphorus. Group members use a suite of approaches to examine nutrient assimilation in model cultures and field populations, often involving the development of species-specific molecular assays focused on detecting cells, transcripts, proteins, organic compounds, and metabolic activities in the environment. With these developments, researchers can, for example, now monitor marine and freshwater systems for toxic cells and describe their activities.
» Additional Information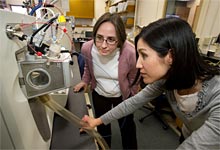 Ultrahigh Resolution Metabolomics


Principal Investigator: Liz Kujawinski
Research in the Kujawinski Lab focuses on the interdependence of microbial metabolic processes with dissolved organic matter. Ultrahigh resolution mass spectrometry permits them to investigate the composition of dissolved organic matter and to carry out detailed metabalomic analysis of both internal and external metabolites of critical marine microbes, including phytoplankton, bacteria and protozoa. Linking field and laboratory studies with multivariate statistical tools further permits robust comparison and hypothesis development.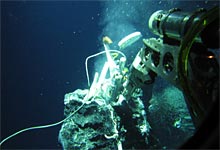 Ecology and Physiology of Extremophiles


Principal Investigator: Stefan Sievert
Research in the Sievert group is aimed at understanding the composition, diversity, and function of microbial communities, with the objective of understanding the relationship between microorganisms and their role in the ocean biogeochemical cycles. Chemolithoautotrophs, organisms that acquire energy from the oxidation of inorganic compounds and that use inorganic carbon as the source for cell carbon, play critical roles in extreme environments such as such as deep-sea hydrothermal vents, oxygen minimum zones, and sulfidic marine sediments and were likely among the first types of organisms on Earth. A variety of approaches that integrate cultivation-dependent and cultivation-independent techniques with geochemical characterization and rate measurements to obtain insights into the functioning of microbial ecosystems.
» Additional Information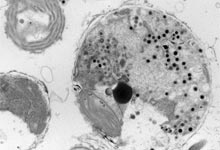 Lipids in Marine Microbes


Principal Investigator: Benjamin Van Mooy
In the processes of applying comparitive lipidomics approaches to study the role of microbial lipids in marine ecosystems, researchers in the Van Mooy Lab are finding novel lipids that play a central role in such processes as apoptosis, viral infection, and inter- and intra-cellular communications. Many of these novel molecules are similar in structure and bioactivity to those under intense scrutiny in such areas as human neurodegenerative diseases and cancers, suggesting an untapped pharmacological potential for lipids from the sea.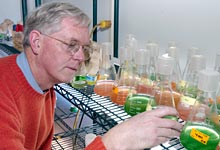 Microbial Basis for Ocean and Planetary Processes


Principal Investigator: John Waterbury
For decades, WHOI, led by the Waterbury Lab, has been at the forefront of research examining the microbial species that form the foundation of the marine food web. These include microbes that use light energy (cyanobacteria) or chemical energy (nitrifying bacteria) to power cellular processes and that are important parts of the nitrogen and carbon cycles in the global ocean. WHOI holds a wide range of these microbes in culture for use by the oceanographic community as model organisms in fundamental studies of microbial processes and metabolites, and in symbioses with other microbes and viruses.
» Additional Information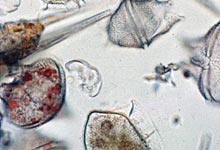 Woods Hole Center for Oceans and Human Health (COHH)


The goal of COOH is to improve the public health through enhanced understanding of how oceanic processes affect the distribution and persistence of human pathogens and toxin producing organisms. The center addresses fundamental issues of the distribution of biological agents with potential human health consequences, in the temperate coastal ocean, including bays, harbors and estuaries. Within this geographic theme, research projects in the Center focus on harmful algal blooms, bacterial human pathogens and parasitic protists, with focused and complementary physical oceanographic studies and biological studies of causative agents. The conceptual foundation for COHH lies at the interface between advanced genomics, population biology, and coastal hydrodynamics.
» Additional Information