Phase 2
Phase 2 of Ocean Informatics at WHOI
WHOI's Ocean Informatics initiative has 4 main goals in 2016:
1) Help WHOI staff and students adopt informatics practices and technologies,
2) Become aware of broader community efforts and external opportunities that may lead to new funding,
3) Strengthen connections to expertise within WHOI and our local science community,
4) Help with data and software life cycle management and publishing.
The Coping with Your Data Workshop in 2013 (see Events page) marked the transition from Phase 1 to Phase 2 of Ocean Informatics at WHOI. Phase 2 is coordinated by Stace Beaulieu (stace@whoi.edu), supported by Cyndy Chandler, Joe Futrelle, and Lisa Raymond, as members of an ad hoc Advisory Group. Please feel free to contact any member of the group with questions about accessing, handling, and sharing data. Also, please contact us if you are interested in joining the Advisory Group.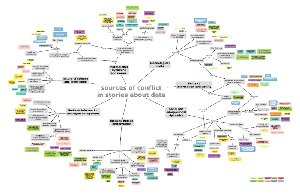 DataONE Data Stories project (http://notebooks.dataone.org/data-stories/): Concept map of sources of conflict or tension for researchers managing or sharing data. Courtesy S. Rebich Hespanha, UCSB. (Rebich Hespanha, Stacy; Menz, Sarah; Bragg, Jessica (2014): Data Stories: Concept map of sources of conflict or tension for researchers managing or sharing data. http://dx.doi.org/10.6084/m9.figshare.893637)
Challenges and triumphs in coping with data

If you are experiencing challenges in coping with data, you may be interested in browsing the DataONE Data Stories project, which is focused on collecting researchers' stories about conflicts and successes that they have encountered when managing data and making efforts to share or re-use data:
https://notebooks.dataone.org/data-stories/



Last updated: August 4, 2016